The early years
I'm an entrepreneur. I always have been. Whether it was my wacky farm-cum-bookstore idea as a child, or my uni-sexual range of lip glosses as Managing Director of my own Young Enterprise company as a teenager, or my short-lived business offering complete computing solutions for senior citizens as a young adult… I always had a passion for dreaming up ideas, imagining how I could make them happen, and in many cases actually diving in and doing so. It meant I had quite a few failures and false starts, but eventually, I struck gold.
The living room
Well, actually, it wasn't gold at first. In 2007, I started Skimbit.com, a "social decision-making tool" for helping people make group decisions. It was essentially a social shopping site, a pre-cursor to Pinterest, but vastly uglier and less useful. I started it in my living room in Sydney, and hired and led a team of engineers in Romania while I worked full-time in Australia. After a year I finally had a working site, but no customers and no potential for investors. I decided to go on a "walk-about" to try and find inspiration, and lo and behold, it worked. While in London visiting friends (I had lived in London for 4 years in my twenties), a fellow entrepreneur suggested I pivot to make Skimbit a white-label B2B offering for publishers, and he offered to introduce me to a wedding website that might be a great potential first client. These two things changed my life.
The break
I had to rally my Romanian developers to prepare a working prototype in 2 days, and borrow some business clothes from my friends as my current back-packing wardrobe of flip-flops and shorts just wouldn't do. I rock up to the presentation and pitched a product that didn't exist. To my eternal surprise and gratitude, they not only loved it, but agreed to pay me a considerable sum of money upfront plus a year-long subscription. I suddenly had a business.
The start
In the proceeding month, I returned to Sydney and sold my car and furniture, gave up my apartment, quit my job, said goodbye (again) to my family and friends, and built the entire B2B product, before returning to London to be a full-time entrepreneur. I was 30. I had given up a safe and lovely life, to be essentially penniless and striving again. But I was content and fulfilled. I was living my purpose.
In the proceeding year, I probably pitched every day – to potential clients or investors – hoping someone else would give me money. No one did. Well, some friends did, and I ate into some savings, and that is how I managed to survive while paying the team of 3 I had hired at the time. The stress of not knowing where next month's payroll would come from was starting to take its toll, but I persevered, every pitch to a potential client or investor an opportunity to learn, and to refine my proposition. One of the refinements was around our revenue model. We pivoted from subscription based to revenue share on advertising income, and with the help of a good friend from university, we came up with this clever way to automating affiliate marketing, so we could be paid a commission on the products people bought from using our social shopping site.
While customers and investors liked this new feature, we still weren't getting funded, and as it was 2008, the world was starting to slide into global recession, and I knew things were not going to get better before they got worse. I had to do something.
The pivot
Thankfully, I had a revelation. Everyone seemed to be more interested in this unsexy back-end monetisation technology we'd invented than in the snazzy social shopping front-end. So I called up a random audio-visual website, and asked the owner (who I'd never spoken to before) if he'd be up for using our affiliate marketing technology on his site. He agreed, and I excitedly said "OK, give me two weeks".
In those two weeks, my team agreed to dump everything we'd done for the last two years, and instead make our in-house affiliate automation technology available so other websites could use it. And I went back to all the potential clients and investors I'd met before, and re-pitched them this new pivot. It worked. In two weeks I got a ton of publishers agreeing to use our new service, and a rush of investors came in and filled our seed round. From the jaws of death – literally, Lehmann Brothers collapse was the day before our seed round closed – my company was saved. That is how Skimlinks began.
The business
I led Skimlinks for the next ten years. In those years, we raise $24m in venture funding, we become an 80-person company, we hit $50m in annual revenues, we have our technology running on 4.5m websites around the world, see over 1 billion users a month on our network and the $1 billion in sales they generate every year through our platform. We go from being a simple technology that automates affiliate marketing for publishers to being a comprehensive content-to-commerce monetisation and insights platform, helping publishers make money and gain insights from the buying behaviours of their readers. We do this all while hitting profitability, and becoming known for our special team culture that even has a name in neon, #skimlove.
The step-down
After 10 years, I recognised that the company had grown to a point where it would benefit from a different type of leadership, and I chose to step-down and hand the CEO reins to my Chief Revenue Officer, Sebastien Blanc. He shared my passion for our vision, team and customers, and I knew would do an incredible job of taking Skimlinks on to greater heights.
The future
And that led me to create this website: Navarland… a place for all the things I love to do and am passionate about. I'll write about my entrepreneurial and life experiences, which may help or inspire others. I'll blog about the places and things that bring me joy or curiosity, so it hopefully does the same for others. And all of these things may entice others to invite me to speak or consult for them. If you'd like to be one of those people, please contact me.
Read more about Alicia:
Awards & community
The original Skimbit design (it was 2006, be kind)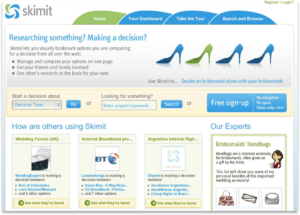 The redesigned Skimbit (slightly better)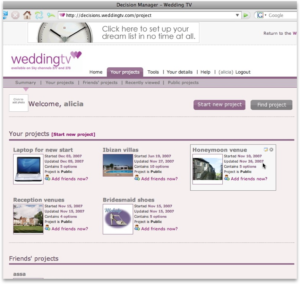 The white-labelled B2B version of Skimbit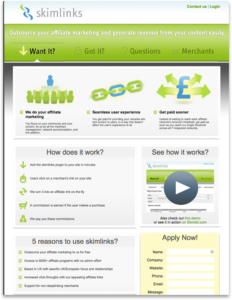 The original Skimlinks design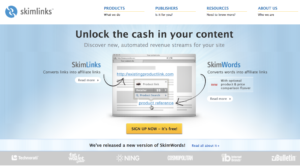 The more modern Skimlinks design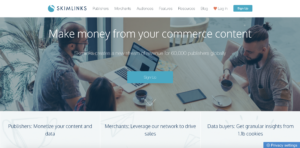 The current Skimlinks design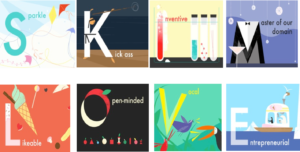 Our cultural values #skimlove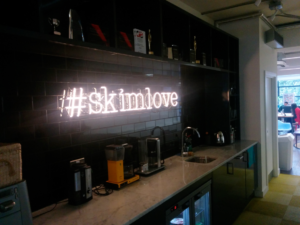 Our culture in neon lights in our office