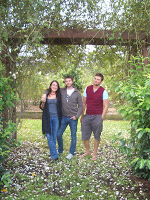 My favourite memory from my Easter weekend down at Kangaroo Valley with my boys, was strolling through the orchard at the bottom of the estate, burrowing our noses in rose buds. The chalet we booked for the weekend was spectacular, even making someone as effusive as I normally am stunned into awed silence. It had its own pond, complete with ducks and lilypads. And beyond the pond was its own rose garden, with various mounds with the most lusciously blooming flowers. The boys and I wandered around, inhaling the glorious aromas of the virulently coloured roses, commenting avidly on the slightly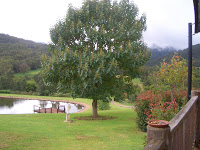 different variations in scents from one rose to another. The roses were all dewy and moist, and there was no sound about us but the rustle of trees, the quacking of ducks, and the moans of cows. It was all rather sensual. A gentle glorious assault on the senses.
My other favourite moment was the vast amount of food we cooked, predominantly for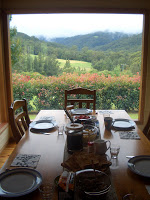 breakfast. I ate more bacon than I ever want to admit to, but boy was it good!! The boys decided that the only way I was going to meet a suitable man is if I could cook (that old adage), so they decided I was going to embark on a month long challenge of cooking special ingenious meals every night for the next month, in an attempt to become proficient. Aah, if they knew what lows I have sunk to cooking-wise this month… oh well, they had good intentions.
Anyway, it was a much-needed break, four days out in the midst of bright green pastures, misty mountain peaks, verdant trees, warm fireplaces, red wine.