After kicking off my Sabbatical in Esalen, I then flew down – via Los Angeles – to Oaxaca, Mexico. It would be the start of the Mexican leg of my Sabbatical, and one which – at the outset – I was the least looking forward to. Not to say I wasn't looking forward to it, just that I thought my next two locations – Puerto Escondido and Holbox – would be the most special. To my surprise, it exceeded expectations and was tied for best with Puerto Escondido. Why? Because Oaxaca is a colourful and vibrant city, famous for its cuisine and its sense of community, and surrounded by beautiful countryside full of ancient ruins and natural wonders.
Hotel
I stayed at the Hotel Casona Oaxaca (you can book on Booking.com or Expedia) for £98/night, but it can be on special as low as £38/night. I was delighted with this hotel: it's location was a few minutes walk from both the main square and the main market, its open-air inner courtyard was picturesque and beguiling, its staff friendly and informative. I'd happily stay there again.
Getting there and around
There are loads of flights into Oaxaca, and the airport isn't far from the city. My hotel arranged my transfer, and the prices were all reasonable. Once in Oaxaca, most things you'd want to do in the city are walking distance, and its so lovely to explore the lively streets with colourful facades, so you really don't want to be catching taxis within the city. However, I did need to on a few occasions, so I ended up befriending one of the taxi driver's the hotel recommended, took his phone number, and called on him via WhatsApp whenever I needed.
Feasting
I was told that Oaxaca was famous for its cuisine, but I have never been that big a fan of Mexican food, to be honest. Yes, I know, sacrilege! But it just all tasted the same and not that compelling. Oaxaca changed by mind. There wasn't a burrito or quesadilla in sight, instead I experienced creative and adventurous food by ambitious chefs.
I began at El Destilado, a newly opened restaurant (at the time), the owner being a friend of a friend I stayed with in Los Angeles prior to my arrival. I almost didn't make it: I landed into Oaxaca in the evening and by the time I got to my hotel it was night. I called up the restaurant first thing to get a reservation, and found that they were booked out the next night and closed my final night, so if I wanted to eat there, I had to be there in the next 30 minutes. I did want to eat there, so I hung up the phone, showered, and walked briskly to the venue.
I was sat at the Chef's Table, which is my favourite place to sit when I'm alone and travelling (you don't feel so conspicuous if you are chatting to staff at the chef's table). The decor was elegant, youthful, sexy. I had been told to order the 9-course degustation meal, and even though it was 9pm by the time I sat down, I was not going to miss out on this experience.
Here is the menu from that evening, which I kept because it was such an extraordinary meal. I was moaning and exclaiming and almost weeping with the joy and adventure of that meal.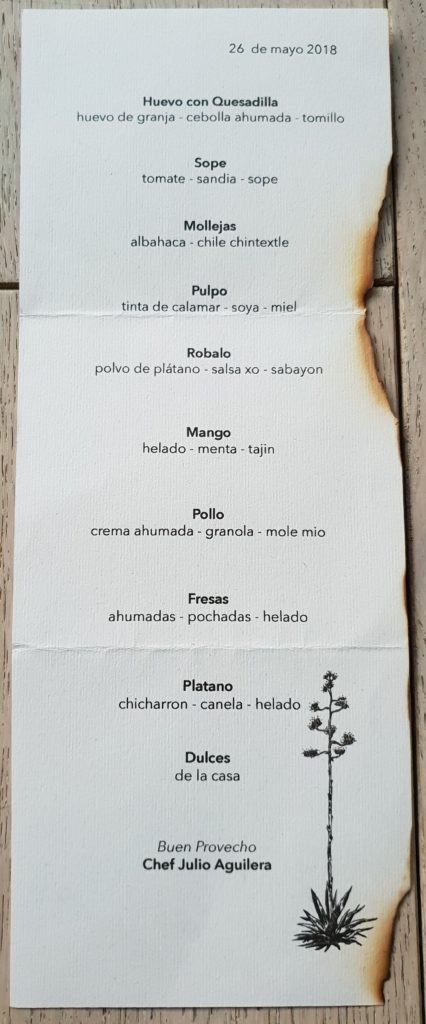 There was another solo female traveller sat at the Chef's Table. Her name was Ciara, she was about to start a job in Oakland in a sustainable food think tank, and was taking a break in Oaxaca prior to beginning. We ended up speaking about what all people end up talking about while travelling… no, not poo, although that is a frequent topic of conversation amongst travellers! We spoke about love, fears, hopes, and the good and bad of ageing. It was a night of fine food, good wines and cocktails, and fascinating conversation.
I continued to eat at extraordinary places in Oaxaca, the next night dining at El Catedral (because, obviously it was close to the cathedral). I ate the scallop starter, and the turkey confit with black mole, which was just extraordinary. I couldn't stop eating the mole, it was rich and flavoursome, and the combination with the turkey felt surprising and comforting.
If you can believe it, Oaxaca has a famous bakery, well, it has a lot of bakeries, but one in particular seems to be raved about by everyone, so I had to venture out there. It is called Boulenc, it was close to my hotel, and I managed to run up there one morning before a tour I was booked on. I ordered a spinach and cheese croissant, which doesn't sound *that* amazing, but good lord it was. The staff were chilled and oozing hipster cool, and the smells in that place…
On my final night, I treated myself to what I believe is the premier restaurant in Oaxaca, Casa Oaxaca El Restaurante (part of the Casa Oaxaca hotel). You need to book ahead as its popular and busy, especially if you want a table on the rooftop, which you absolutely do. Unfortunately, just as I arrived for my booking, the heavens opened and a deluge descended, which delayed everything as half the tables on the rooftop could now not be used. I waited patiently, and eventually got a seat, overlooking the skylines of Oaxaca. And the meal… wow. This restaurant is famous for the salsa they make for you at your table, in a show of chopping and whipping mastery! I then ordered the tomatillo, guava and feta salad, which I ate as slowly as I could because I literally didn't want the pleasure of eating it to end. My main course was a seafood soup that was cooked at my table by hot stones placed inside my soup bowl. It was full of flavours and rich in delicious pieces of fish and seafood.
Anyone that knows me at all knows I am insanely passionate about food. It moves me and animates me and pleasures me. So Oaxaca wiggled its way deep into my heart by making my taste buds so happy.
Energy in the plaza
What really blew my away – besides the food – was the vibrancy of Oaxaca. It felt less like a tourist mecca, and more like a real place actual humans lived and loved. I especially felt this when wandering through the Zócalo Oaxaca, or the main square where the people of Oaxaca seemed to hang out. It felt like a Hollywood director was filming a scene where he wanted a quintessential Mexican square overflowing with an abundance of energy, music, dancing, balloons, movement, colour, etc… and the director had just yelled "ACTION!" and the scene began. That is how overwhelming and wonderful it was. All day, and well into the night, there were bands playing, little kids running around, lovers kissing on benches, sellers at their craft stands, people holding enormous bundles of balloons, artists, food stands… it was incredible. I would regularly just go there, sit down on a bench or at a bar by the square, and just watch. Just watch. Old ladies hanging out together sharing gossip. Couples clearly married for years and enjoying quiet comfort together by sunbathing on a shady bench. A grandfather taking care of his infant grand daughter as she tottered around under his loving gaze. It was all of humanity, bare and beautiful. I loved it.
Ancient ruins and natural wonders
While there are tons of things to do within Oaxaca city, there is a lot which is tempting to do outside the city itself. I did some research, and in the end, I think I did the perfect combination of excursions. Here is the tip: do NOT do a tour to Monte Albán (the main pre-Colombian archaeological ruins about 15min drive out of Oaxaca city). There are many companies that will offer you tours, but the BEST way to do it, is just to arrange a taxi driver to take you there at 7:30am. It opens at 8am, and if you get there around then, you will be possibly the only person there for at least an hour. And let me tell you, it is insanely good to wander alone through these ancient monuments, without masses of loud tourists getting in your way and destroying the quiet ambience of the site. I explored, climbed temples, descended into a lowered plaza, meditated, gazed… all in almost perfect silence. Then… the crowds came, but by then I had rendezvoused with my taxi driver, and I was back at my hotel by 10am. Quite perfect.
Quiet in the plaza
On my final night, as I headed out of my hotel in the evening to find a place to have dinner, I was taken aback by the antithetical sight of streets full of tents. Somehow that bustling, light-filled, effusive plaza by day had been replaced by a dark maze of tents in total silence. I had no idea initially what the cause was, and was instinctively fearful, until I slowed down to read the protest signs erected around the tents, and discovered this was a totally benevolent protest: parents wanting the government to invest more in their children's education. In protest, all the residents camped out in tents, erected somehow on the stone-lined roads of the plaza and surrounding streets. It was as peaceful and well-intentioned a mass objection as I have ever seen, and I got over my initial nervousness at wandering on my own in dark Mexican streets filled with whispering dark shapes hovering outside their tent entrances. These were people that cared so much about their kids opportunities in life that they protested in a respectful and communal way. I was not going to be gang raped here. I relaxed into enjoying how diametrically opposite I had experienced these same streets: dark and light; silent and loud; still and bustling.
Farewell Oaxaca
And that was it. Early the next morning I took a cab to the airport, and boarded an absurdly small aircraft for the short flight over to Puerto Escondido, where I was due to spend the next few days. I felt really lucky I had listened to the advice of friends who'd suggested coming to Oaxaca, I am normally so beach-bound on my vacations that it would not have naturally occurred to me to pick an inland town for a destination in Mexico. But I was suitably humbled, and utterly enamoured, by the splendour of Oaxaca.