One of the first items I put into my "Sabbatical" Trello Board of life dreams was to do a course in Esalen, Big Sur.
A few years into starting Skimlinks, it became apparent that we needed to have a US base to cater to our American clients. As one of the co-founders, the mantle of responsibility fell onto my shoulders, and I moved to San Francisco in 2010 where I lived for three wonderful and intense years. And it is impossible to live in San Francisco, and not hear tales of the Esalen Institute.
Esalen is a retreat and learning centre situated on 27 acres of utterly breathtaking land, perched over the wild Pacific coast of Big Sur, California, three hours drive south of San Francisco. I It is a place of legend. It opened in 1962, and became the unofficial capital of the New Age movement globally, where teachers and students of human potential and spiritual modalities convened. It was here the early researchers into psychedelic therapy convened regularly, including Stanislav Grof (the pioneer into LSD-assisted psychotherapy and, once that was made illegal, the inventor of the Holotropic Breathworks technique) who was a scholar and teacher at Esalen. It was here that Gestalt psychology, bodywork, meditation, yoga and many more therapeutic and philosophical disciplines were fostered and taught. It attracted hippies, authors, academics, and celebrities for its short or long-form retreats, and for its healing energies.
I had friends in San Francisco who frequented its "clothing optional" hot springs regularly at night (between 1am and 3am for non-guests); I had friends who got engaged on the rocks at sunset (those same friends conceived their daughter at Esalen too a few years later); and I had friends who escaped down there for writing and meditation workshops. It always seemed like a place of solace, beauty, and discovery. It seemed perfectly appropriate that my "Summer of Love" sabbatical should begin in its healing waters.
So once I knew the dates I wanted to be there, I looked online at the Esalen workshops page. I knew the only time it would work as part of my overall travel plans was for up to a week in late May. My options included a yoga and a meditation course, but both seemed relatively safe. I already did both, I wanted to really stretch myself. So I was intrigued by the workshop titled "The Deepest Offering: Let Love fully take the lead". It had a bit of everything – yoga, meditation, even a few days of silence – but was also seemingly espousing a philosophy that sounded suitably way out there. If I was going to go to Esalen, I was going to *GO* to Esalen.
Pricing
It isn't cheap… unless you are prepared to really slum it, and even then… For example, for the workshop I did:
sleeping bag space in a meeting room (access from 11pm to 8:45am only) – $675
bunk bed in a dorm of 4+ people – $1,020
shared room in shared house – $1,410
premium room – $2,830
separate house – $4,105
I chose the premium room, as I felt like spoiling myself. This was the start of my grand adventure, and I intended to kick it off in style. I mean, how could I resist marketing images like this:
As it turns out, and to my deep frustration, the weather during the 5 days I was there was cloudy and cold the whole time. It was still beautiful, but not as glittery and resplendently blue as the photos above. Here is what my room looked like that week: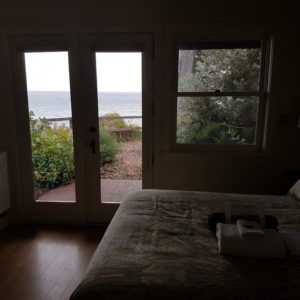 And while that doesn't look particularly pretty compared to the marketing images, believe me, it is just that my photography skills don't do it justice. Have a look at the video I took with awe in my voice as I explored my home for the week:
Getting to Monterey
To get down to Esalen, I arranged a road trip with one of my best friends living in San Francisco at the moment, Heather. We hired a car and drove down, staying a night in Monterrey before I got a transfer the final hour to Esalen. That drive down from San Francisco to Monterey is probably my favourite drive to do in the world. I used to do it frequently when I lived in San Francisco, going down to Carmel or Monterey for a weekend of contemplation, diary writing, and sea spray. If you haven't done this before, I heartily recommend it. Heather and I drove down, and just stopped anywhere that took our fancy for a bite of seafood or a glass of wine. We discovered some delicious places:
Sam's Chowder House, Half Moon Bay – we had fries, oysters and sparkling wine at 11:30am, yeah!
Phil's Fish Market and Eatery, Moss Landing – the seafood soup was so delicious I moaned in pleasure almost constantly
Carmel Ridge Winery Tasting Room, Monterey – the meat and cheese board to accompany a wine tasting session was a wonderful way to pass the afternoon while a jazz band played in the small venue
A Taste of Monterey, Monterey – the highlight of Monterey, a wine tasting bar with 270° views of the Pacific, glowing gold as the sun set
We stayed at The Intercontinental Hotel in Monterey, because Heather assured me she gets good rates. Whatever, the view was worth it. You can even see our room from the photo above, its the one right over the water. You can book The Intercontinental at Booking.com or Expedia, for around £200-300/night.
Getting to Esalen
From Monterey there are really only two ways to get to Esalen:
Private or shared transfer: call up Esalen on +1 888-837-2536 and ask for a few phone numbers of trusted drivers from Monterey
Shuttle bus: $80 each way, details available here
You can also hire a car yourself and drive, or get shuttles from San Francisco to Monterey.
What is it like?
It is no hyperbole to say Esalen is breathtaking. It really is. I spent my break time between workshop sessions exploring the property, finding delightful corners and thoughtful design throughout. Here is a map to give you some context: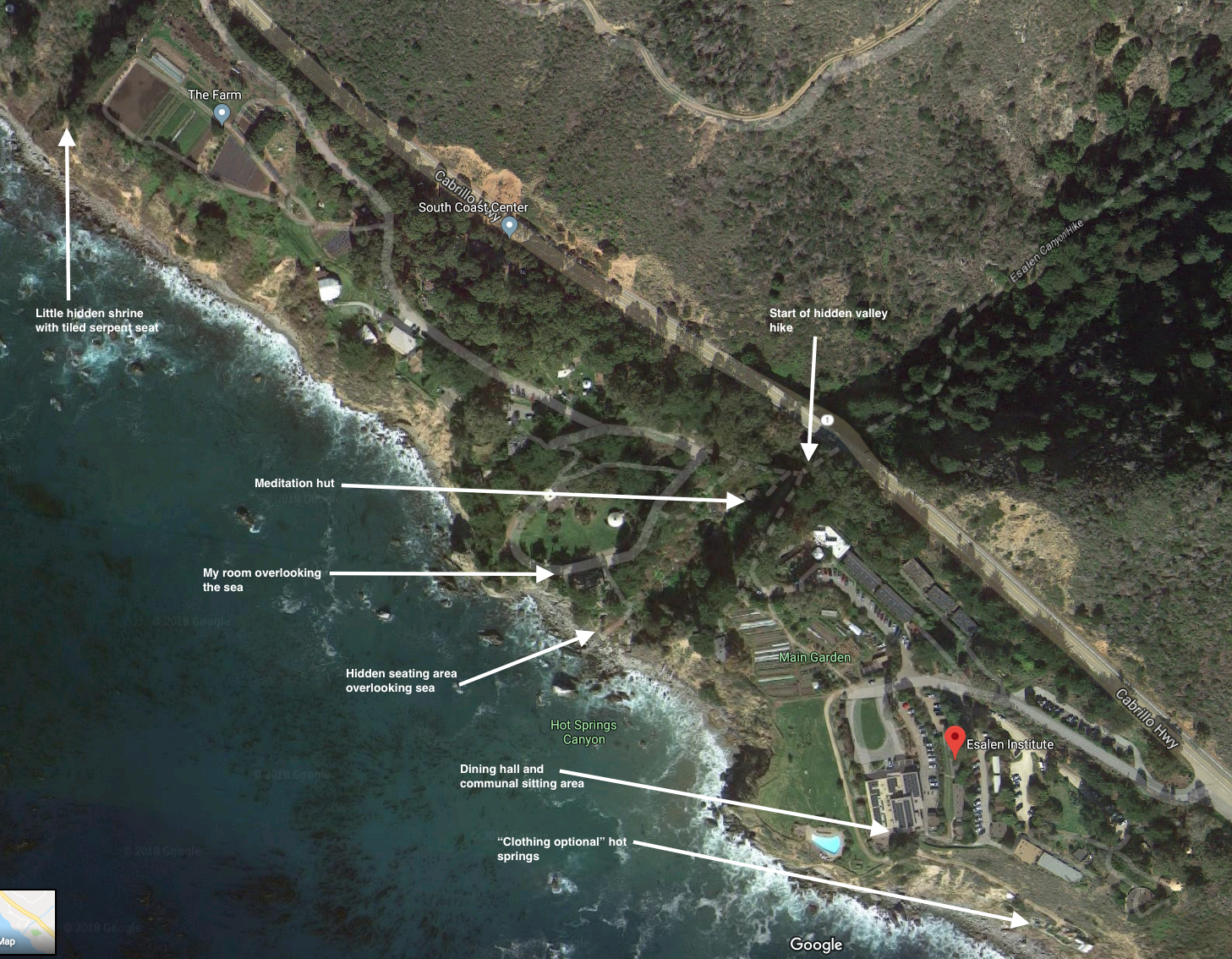 You will notice a few things marked on the map:
dining hall and communal sitting area, with beautiful views of the sea
Main Garden, which is a pure joy to walk through each day. Esalen grows almost all its own fruit and vegetables, both in the picturesque Main Garden and at the edge of the estate at The Farm
Hot Springs Canyon, which is a ravine with gushing water surging out to the sea, with a little Meditation Hut nestled right down on the rocks. It is as wild and pretty as you'd imagine
"clothing optional" hot springs, a set of small pools perched right on the edge of the cliff. You can sit there, naked, warm, watching otters frolic below you on the rocks.
the room I was allocated, right on the end of the cliff on the other side of the canyon
a few hidden gems… this is one of my favourite things about Esalen: it rewarded curiosity and exploration. You wander right to the ends of innocent looking paths you find, and to your surprise, find magnificent shrines or flower-filled benches, totally obscured from view and seemingly forgotten… but there *just* to reward moments of discovery like that. Magical.
The Workshop
So, now to the course I did… it was run by a famous astrologist T0sha Silver, who used to do astrology readings for years and has written a few books on spirituality. I was surprised to discover I was literally the only person in the room (of about 30 people) who had never heard of her before. In fact, everyone in the room seemed to be ardent fans of her, having read her books and frequented her online forum for years. I had a moment of thinking to myself "What have I gotten myself into?!" when I began, as I am not a believer in astrology, and found many of her teachings self-indulgent, contradictory, and too "new age" for me. A central tenet of her teachings were that everything happens because the Divine is trying to send you a message if you are open enough to receive it, but I felt it absolved many in the room of responsibility for their own predicaments. If you are over-weight, or unemployed, or depressed… some personal responsibility needs to come into it fixing these problems, rather than seeking an easy answer or absolution that it is "meant to be".
However, I caught myself mid-eye-roll at one stage, and scolded myself. I'd spent a lot of money to be here, and it was rainy and cold outside so there was nowhere else to go. I may as well just dive into it, and explore "what if this was all true", just to see where it would take me. So I dived in, meditated with an open heart, listened, exercised loving kindness, and found what resonated as truths amidst the teachings.
She has created (and sells) a set of cards containing her "Change Me Prayers", virtue-based mantras aimed at helping people with personal challenges. We were asked to select one at random, ostensibly the Divine was directing us to pick one that would speak directly to us and our current strife (though we were allowed to pick another one if the Divine didn't get it quite right). Mine was:
STRENGTH

Change me Divine Beloved into one who holds my center in all situations, no matter how challenging. Fill me with serenity and calm, wrap me in Your faith.

I hold my center.
While me initial reaction was to roll my eyes at this new age claptrap, I have to confess that I thought about these words and their fluid and varied meanings a great deal over the proceeding three months of my Sabbatical. They proved to be more profound and meaningful to me than I'd given them credit for initially. Maybe The Divine was having her way with me after all.
Here is some of what I learnt during the course:
"When you grab something, you close your fist. Nothing can come into a grab. It is when you ungrasp that you open your hand, and can receive."

"The road to freedom is made up of non-grasping, detachment, and surrender. Real surrender has spaciousness and curiosity. Its an exciting way to live."

"Offering to the Divine is a method and practise that embodies that non-grasping, detachment and surrender. Catch yourself yearning for something, and instead mentally imagine offering it to a Divine energy. You still need confidence and clarity to do what needs to be done, but detach yourself from the outcome."

"The more you train your mind to separate "I" from what it is you are feeling and thinking, you more you remove power from emotions and thoughts to bring you down and to make you suffer. You learn to tap into them as tools, rather than to be at their mercy."

"When all your intense desires have relaxed into preferences, your job will be done. Then all things will be done through you and for you, not by you."

"You really find out where you are spiritually when you find out your car has been towed."
There were exercises in meeting and playing with your Inner Child, in imagining the Divine, in letting yourself see visions and explore what they may be trying to teach you, and – hilariously but very cathartically – a Coconut Ceremony. I just threw myself into it, and found a place of wonder, self-love, acceptance, and freedom. Which is kinda exactly what I wanted from my Esalen experience, what I wanted from the start of my Sabbatical.
The Hot Springs
Esalen is famous for its "clothing optional" hot springs, and deservedly so. They are perched right on the edge of the cliff, so you can soak while gazing out directly to see, and observe the otters and dolphins in the water below. However, I was filled with trepidation and dread at the thought of disrobing and walking – completely naked – in front of both men and women. They weren't split into sexes, not even the changing area or communal showers, so you have to muster up the confidence to just take your clothes off, walk across the pool complex, and get in and out of hot tubs that have a few other naked people in them. Some of them are even people from your workshop, which just can't help but feel weird.
I discovered – through a bit of trial and error – that the best time to go for a soak was when breakfast was starting. It was a stunning time of day to be soaking, as the sun rose behind you and coloured in the sea below you. And most people were at breakfast, so it was largely empty. I'd regularly get a pool all to myself. I'd then get out 30min later, have breakfast at the tail end of its allotted slot, and still be on time for class.
Other random observations
Silence – part of the 5 day workshop included a two day "silence", in inverted commas because it was only silent outside of class, so it really wasn't that much time actually spent in silence. I choose to be mostly silent for more of the days, because I didn't want to get sucked into small talk with people I was unlikely to ever see again. I wanted to use this time to read, reflect, soak in the beauty of the place. It was nice to have an excuse not to engage in small talk.
Hummingbirds – I saw my first ever hummingbird on this trip, and it became a theme for the Sabbatical. These little birds – along with the butterflies I also saw everywhere amidst the flower banks of Esalen – were little emblems of the Divine, in my imagination. And the fact that this first hummingbird came while I was alone in the little hidden shrine (see map above) felt even more special.
Massage – Esalen is famous worldwide for its own brand of massage, and deservedly so. I treated myself to two massages, from Malachi and Topher, and I can heartily recommend them both if you go. I have had a lot of massages in my life, and these two were both in the top 10 ever. A big claim, but accurate.
Gardening – one of the activities you could volunteer for was to harvest vegetables from the garden. It was quite the experience: you meet with the other volunteers early in the morning, and you play a simple warm-up game with your fellow gardeners. You meditate briefly. Then you get allocated a row of vegetables. I was allocated pak choy, and was taught how to cut the stalks at the base of the roots with a blade. I harvested a huge basket of them, and I cannot tell you how much pride I felt when two days later, I was served pak choy for dinner. "I picked that!!" I loudly exclaimed (to no one really, see point above).
Conclusion
Esalen lived up to the hype. I do wish it had been blue-skied and sunny the whole time, but nothing could diminish the beauty and peace of the space. And it felt like I was connecting with almost hallowed grounds, that had seen 50 years of learning and exploration of the things that move and make us, as humans, as a species, as a consciousness. Great minds had convened here over the years, the bettering human potential had been relentlessly pursued, societal shifts had begun here. It is a special place. Do yourself a favour and go… just pick a week, and attend a workshop that takes you a bit outside your comfort zone. Give in to the weirdness, and open yourself up to whatever you might learn from it, either directly through the teachings or indirectly through how you react to the teachings. And explore the grounds, take a book, meditate. You'll see what I mean… its special.