One of my little childhood fantasies was to travel in a countryside where I could imagine fairytales being set… towering mountains, stunning lakes, inviting woods with magical elements in them, quaint houses…. and the Bavarian countryside I always knew would fulfill that fantasy, so one of the things I definitely wanted to do when in Munich was get out of Munich and explore this area.
My Lonely Planet suggested an area called Berchtesgarten would be ideal for this. Apparently it is the mythical heart of Bavaria, where they have centuries old traditions involving fairies and monsters… they have forests supposedly full of magical creatures (a forest actually called Magical Forest!), and some of the most breathtaking scenery in Europe. I had to go there.
However, it was situation in a tiny pocket of land in the very south-west corner of Germany, almost entirely surrounded by Austrian Alps. It was far from Munich, with poor public transport. Turns out (unsurprisingly considering) that Nicola was born in Berchtesgarten and knew it well, so could give me suggestions on what to see. It made me even more determined to go there. I thought I could catch a train down and use a cab to get around, but Nicola said that wasn't really an option, and hitch-hiking was not even worth considering. So I thought I would hire a car for a day.
I awoke early that second day, and caught the train out to East Munich which is close to the main autobahn (so I could avoid driving through Munich city traffic). Unfortunately, the car dealership had no available cars when I turned up (perhaps I should have checked first). I was bitterly disappointed, and walked dejectedly back to the station, where I found a travel agent.
I went into the travel agent, and they said they could help. They called around for a while, and eventually found a place that had an automatic car available (that was the problem, damn why didn't I ever learn to drive a manual!), but it was a top of the line BMW for a daily rate that made me do a double-take. I just couldn't justify that much, so I thought instead I would catch a train and pay for cabs.
I went to buy a ticket to Berchtesgarten, and was equally aghast when I was told the return fare was not much less than the daily rate for the car… and when I thought about it, a car gave me more freedom and independence… so I got a refund for the ticket and went back to the travel agent (yes, these dizzying circles are indeed my life). I booked the car, and when told how much the excess was, and that for an extra EUR 10 I could reduce it by half, I thought that seemed a worthwhile investment, particularly as I had never driven on the right hand side of the road before.
I went to the car dealership, and was given a very large and expensive looking BMW. Quite daunted, I sat inside, and stared in confusion at all the buttons for about 20 minutes, freaking out completely. What on earth was I doing??! How on earth was I going to manage this vehicle on such crazy mountain terrain? What was I doing spending that much money?! Why can't I even work out how to turn on this car!! With incredible embarrassment, I walked back into the dealership and asked them to help me work out how to use the car. Turns out to my relief it really wasn't that intuitive, so my embarrassment was a little subdued.
To my immense relief, the one benefit of splashing out so outrageously on this BMW was it had satellite navigation system that projected instructions subtely onto the windscreen. So despite the confusing terrain and country roads I was to traverse, I never got lost, and felt totally comfortable wherever I was.
So the journey began. I was imagining getting out to the mountains and spending a gleeful day swanning around alpine hills and sunbathing by soothing ponds. Unfortunately, it was not to be. The skies opened up, and it began to torrentially rain. Can I even begin to say how freaky it is to drive a new car on foreign roads on the right hand side of the road while you can't see more than a few metres ahead of you for 2 hours of driving at 120 km/h. Freaky. I spent the entire time praying it would clear by the time I got there, so that my vision could be fulfilled. But it was not to be. I arrived at Eagles Nest, the holiday house the Nazis built as a present for Hitler on his 50th birthday, which is meant to have the most spectacular view of everything, and all I could see was grey clouds and pelting down rain. I went to the museum there to kill the time, ardently praying for a miracle. But besides about 5 minutes when the clouds did part and I got a glimpse of a stunning valley below, the day was lost in a haze of rain.
I was on my way down from Eagles Nest, on a curvey narrow road, and I was feelingn so confident at how well I was coping with this car… when CRASH!!!! I misjudged how close the railings on the side of the road were, and scraped the beautiful big BMW violently against the railing! My heart stopped beating for a while. I kept driving, and next opportunity I had to stop I inspected the damage. To my utter dismay, a massive scrape had been taken from the whole right-hand panel of the car. Shit. I tried to counsel myself: its ok, you have travel insurance that will cover the excess, and thank GOD you paid to lower the excess… its ok… but of course, seeing a beautiful car so damaged was enough to make you want to weep. Oh well, I soldiered on.
By this time it was 3pm. I had to make a decision. I could drive back and drop the car off in despair at the money I wasted to see absolutely nothing… or, I could keep the car for another day and hope passionately that tomorrow was clearer. Staying another day would mean firstly, paying another exhorbitant day rate for the car, it would mean paying for accommodation out here when I had already paid for my bed in Munich that night, it would mean being really uncomfortable the next day because I didn't come prepared with a change of clothes, toiletries, nothing.
Normal people would no doubt have given up and gone back to Munich. But I just couldn't. I had come this far, I felt destined to see those mountains and lakes, so even when I checked the weather to find it was due to rain the next day too, I decided to be brave and stay the night. The tourist office helped me find a cheap room in a private house, and the car hire place let me have the car for another day. I was set.
The one thing to do in the area on a rainy day was see the Berchtesgarten salt mines. So I decided even if I could do nothing else, I could do that. The tourist office said their last tour started at 5pm, so I rushed to it, parked quickly, and sprinted through the torrential rain to the cash office only to be told it was now 5:05pm and it was closed. I was honestly about to burst into tears, I felt so cursed by bad luck. So I actually begged to be allowed in, I just needed my day not to be a complete waste of time. The woman at the cash office relented and said I could go in if I didn't mind joining the group of rowdy American school kids waiting for a private tour behind me. It is a measure of my desperation that I agreed. I spent the next two hours patiently coping with the overbearing squeals of mid-Western teenagers. Urgh.
By the time I got to my room that evening, I was shattered, and fell asleep early. But I was like a child before Christmas morning, I was so anxious about the next day's weather. Everything depending on it. I awoke almost every hour, and went to the window to see the sky. Imagine my utter jubilation when at 6:30am I saw sun streaming over the stunning mountain scenery! It was going to be a good day! I rushed my breakfast and headed out immediately.
I first went to Koningsee, Europe's highest lake, nestled between towering cliffs. You could get a quiet boat down the lake, past an old church, to the other side. The scenery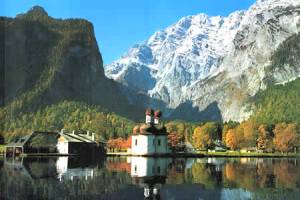 was so perfect I felt touched by a deity. It was everything I had desperately hoped it would be, and for the first time in 24 hours, I felt peaceful joy. At the other end of the long lake, you could go for a little hike down the valley to another smaller lake. Because it was so early, there was no one else there. Just me, heavenly scenery, warm sun. I was in a state of blissful ecstasy. I explored around the lake, wandering down the inviting trails… and then headed back to the boat where I was the only passenger on the relaxing trip back up to where I started.
I then headed to Hintersee, which was described in Lonely Planet as one of the most idyllic settings imaginable, a lake and mountains, and a nature trail that went through the Magic Forest, where people used to imagine seeing fairy folk and other mystical creatures. It completely lived up to my expectations. I was in such bliss I could hardly operate. I ha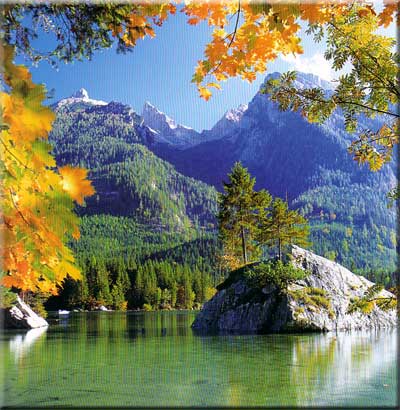 d packed a picnic lunch, and a found a secret trail down to the lake where I sat on a rock and ate happily by the lakeshore. Then I took the walk through the forest, imagining all sorts of knighterrands and magical creatures darting around.
At this stage, what I should have done was finish up and drive back to Munich. It was 3pm. However, I was feeling so blessed and optimistic that I thought "You know what, I'm going to drive to see both Linderhof and Neuschwanstein castles, I have time!". So I set my sat nav appropriately, and drove off…. I drove for 1.5 hours, and in that time it started to torrentially rain again. I should have given up and gone back to Munich, but I was determined to see everything I wanted to see. Even though I knew both castles closed at 6pm, I was sure I would make it ok… so I drove and drove.
I made it to Linderhof, and explored it in the rain. It was a hugely ostentatious castle, more like a theatre set than architecture (not surprising since it was designed by Ludwig II's theatre set designer). It was ok, but it felt quite fake, so I was happy to rush through it. By this ti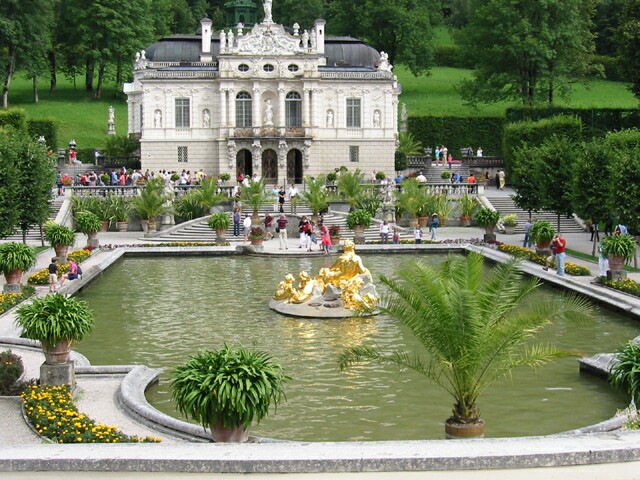 me though it was 5:30pm. Neuschwanstein was what I really really wanted to see, it was the castle that Disney based its logo on, and it was one of the reasons I wanted to go to Bavaria. My sat nav said it was 40 minutes away, which means I would get there after it closed. But I was sure I could at least see the castle from the outside even if I couldn't go inside. So off I drove, through the pouring rain…
I made it there finally, and got out to explore. It was raining so hard though I could hardly see. I was drenched, but determined still to get a glimpse. I walked up a hill, and there it was… Note – these images aren't my photos but taken from other sites… the view wasn't as good as this. But I could see it. I wanted to get higher up to see it better, but then I realised I was freezing cold, soaking wet, tired, and just wanted to get back to Munich. So I jumped back in the car and drove off. I was at Neuschwanstein for all of 2 minutes. tee hee. (those of you who have travelled with me will no doubt be nodding knowingly at this point… yes, I set an unrealistically ambitious set of daily objectives for myself while travelling)
It took forever to get back to Munich, and I was so tired and sore and stressed. The rain made driving difficult, it was getting dark, and I was tense and fed up with driving. I made it back to the car hire place at 9:30pm, and had to confess about the damaged car. To my utter humiliation, the man working there was also the man who had to teach me how to use the car on my first day. He took it well though, and after a few forms were filled out, I caught a cab back to the hostel. Even though I was so tired and tense, I needed to go out and destress. Tom offered to take me out for a drink, so I rushed around and got ready. I had to also pack as I had to leave for the airport the next morning at 6:30am, so it wasn't til after 11pm that I met up with Tom. But it was just what I needed: a few glasses of wine, some German noodles, and a fun evening of chatter and German history. We went to a pub that used to be where aspiring artists went, and supposedly Hitler used to attend the meetings, but got thrown out because he talked too much and wasn't very talented!
Because I hadn't really seen that much of Munich and I was leaving the next morning, Tom decided I needed a final tour of the city. He used to drive tourists in a rickshaw, so knew the history of sites well. So there we were at 1am, strolling the streets of Munich. It was such a wonderful way to spend my last night in Munich, really fun and different. I blessed my lucky stars I had met such interesting locals rather than having to spend my time with American frat boys drinking beer and getting sick.
Anyway, that was it. I had 3 hours sleep and had to wake up at 6am to catch my flight to Bucharest. That was yesterday, where I finally got to meet Emi, the owner of the company that developed Skimbit for me, and his team of developers. I'm here now in Romania for 6 days. More later on all this.
But to end this rather long missive… its not often in your life a dream comes true for you. And in that alpine pastoral splendour a life-long vision of fairytale beauty came true for me.