There are few things I hate more than a long weekend stuck in London. Especially a long long weekend like Easter. 4 days… it is the perfect length of time to escape somewhere exotic, except for the fact that everyone else is onto the same idea. Flights anywhere there might be sun were eye-wateringly expensive, and the thought of battling crowds at airports or roads was too disheartening to handle.
So in the end, with less than a week before Easter and still nothing booked, I asked myself what I actually wanted to do this Easter weekend. And I answered myself that a weekend "feeling grounded" was the answer. Little did I realise how literal that prophecy would be.
I eschewed expensive destinations in exotic lands, and went for a homey country weekend. Unfortunately, it rained almost the entire weekend, but the brief pockets of time that were merely overcast were put to good use, and I found myself in overalls, thick gardening gloves and wellington boots, yanking nettle roots out and sawing down trees. It was surprisingly cathartic, and triggered an unexpected state of flow. And it burnt off the many chocolate eggs I found in my mouth.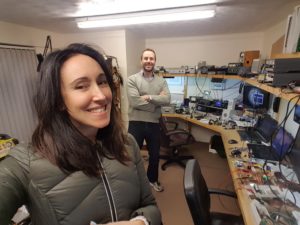 I was lucky enough to also be taken to see Owls by Moonlight, which courtesy of my mild owl obsession, was an incredible treat. Seeing a ghostly white barn owl swoop just over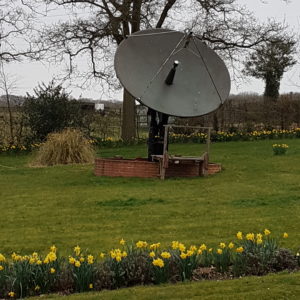 our heads as a classic piece of music resonates beautifully under moonlight was
hypnotic. And getting up and close with an owl always feels to me like a peek into a magical other world (a "navarland", perhaps!)
Finally, my inner geek was sent into button-pushing over-drive with an excursion to a friend's house with a radio telescope and an office full of diodes and circuit boards and old receivers and morse code switches.
I have the rest of the year to battle airports and to intoxicate myself with warm lands. But this weekend, it felt needed and healthy to get English dirt under my fingernails and to gaze into the eyes of local owls and to stare at the stars (though mostly clouds) above my familiar land.